This is the latest entry in MLBTR's 2017-18 Offseason In Review series.  Click here to read the other completed reviews from around the league.
Looking to break the Mariners' 16-year playoff drought, trade-happy general manager Jerry Dipoto swung a couple of noteworthy deals in the offseason.
Major League Signings
Trades And Claims
Notable Minor League Signings
Notable Losses
[Mariners Depth Chart; Mariners Payroll Information]
Needs Addressed
For the most part, the Mariners' cast of position players was effective in 2017. Catcher Mike Zunino, second baseman Robinson Cano, shortstop Jean Segura, third baseman Kyle Seager, right fielder Mitch Haniger and designated hitter Nelson Cruz each turned in above-average seasons, and all six are reprising their roles this year (though Zunino's currently on the DL, and Cruz has an ankle issue). There's a new face at first base, on the other hand, after the Mariners received bottom-feeding production there a season ago. They were in especially poor shape at the position before the late-season addition of Yonder Alonso from the Athletics. Alonso was much steadier than Danny Valencia, but both players are now elsewhere after leaving in free agency.
Enter Ryon Healy, who – like Alonso – came over from Oakland. The Mariners moved to acquire Healy shortly after the offseason began in November, surrendering intriguing reliever Emilio Pagan in the deal. Whether it was the right call is up for debate, especially with so many other first basemen having ended up with reasonable contracts in free agency. And it doesn't help that the Mariners' bullpen took multiple hits toward the tail end of spring training, including standout reliever David Phelps' season-ending UCL tear. The M's Phelps-less relief corps could certainly use Pagan now after he worked to a 3.22 ERA/3.28 FIP in a 50 1/3-inning showing last year, his rookie season.
The 26-year-old Pagan is under control for the next half-decade, as is Healy. Also 26, Healy burst on the scene with the A's two years ago in hitting .305/.337/.524 in 283 plate appearances. There were troubling signs along the way, though, in the form of a 4.2 percent walk rate and an unsustainable-looking .352 batting average on balls in play. Healy's lack of patience continued last season, when he drew a free pass just 3.8 percent of the time, and his BABIP dropped to .319. Thanks in part to those factors, his production plummeted over the course of a full season (.271/.302/.451 in 605 PAs). Projection systems such as Steamer and ZiPS are forecasting even worse numbers this year for Healy.
If the righty-hitting Healy does indeed fail to live up to expectations this season, the Mariners could turn to lefty Dan Vogelbach, who was the favorite to emerge as their first baseman entering last year. But Vogelbach had a miserable spring, lost out to Valencia and ultimately totaled just 13 major league PAs. This spring was a different story for the 25-year-old, who led the league in OPS (an astounding 1.455) over a small sample of at-bats (54), leading to hope that he's finally ready to deliver on the promise he had as a Cubs prospect.
A few weeks after the Mariners welcomed Healy, they sent three prospects to the Marlins for speedy second baseman Dee Gordon and took on his entire four-year, $38MM guarantee in the process. With the expensive, potentially Hall of Fame-caliber Cano occupying the keystone for the foreseeable future in Seattle, the Gordon trade was a head-scratching move upon first sight. However, it quickly became clear the Mariners were going to employ some out-of-the-box thinking and shift Gordon to center field to replace last year's starter, Jarrod Dyson, who later departed in free agency. Reviews of Gordon's defense were positive during the spring, and Dipoto is confident the 29-year-old is amid a smooth transition after spending the first seven seasons of his career in the middle infield.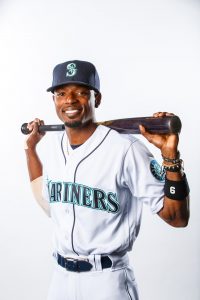 "We're not worried about [Dee Gordon in center field]," Dipoto told FanGraphs' David Laurila last month. "We looked at his athletic ability. We looked at the Statcast information we have and did an overlay of what kind of ground Dee would be able to cover. We imagined him playing center field, and with the naked eye it looks awesome. He's going to make mistakes in games — there's no question — but we're going to live through that. He's such a baseball guy. It looks natural for him right out of the chute."
Dipoto mentioned Gordon's athleticism, which is the key to his success in all aspects of the game. He brings almost no power to the table, evidenced by 11 home runs and an .073 ISO in 3,012 lifetime plate appearances, instead relying on his game-changing speed to make an impact offensively.
Gordon's wheels helped him bat a passable .293/.329/.367 entering this season, and when he has gotten on base, he has terrorized opposing teams. Gordon has stolen 58-plus bags three times, including a major league-high 60 in 2017, along with consistently netting excellent marks in FanGraphs' BsR metric. His baserunning prowess should be quite a boon for the Mariners, who were subpar in that department last year (per BsR) and have since lost Dyson's team-high 28 steals.
While the Gordon acquisition was a bit costly from a financial standpoint, the Mariners avoided extravagant spending in free agency. Their largest guarantee (two years, $17MM) went to reliever Juan Nicasio, a failed starter who's coming off his first full season in the bullpen. The 31-year-old divided 2017 among three teams (Pittsburgh, Philadelphia and St. Louis) and held his own over 76 appearances and 72 1/3 innings, with a 2.61 ERA/2.98 FIP and 8.96 K/9 against 2.49 BB/9. He also induced ground balls at a respectable clip (45.6 percent), which wasn't the case with Pagan (22.3 percent). Notably, Dipoto revealed in his previously linked discussion with Laurila that building a more grounder-heavy staff has been a focus recently.
"We've been a little more aggressive in trying to find more neutral pitchers," Dipoto said. "In 2016, we were extremely fly-ball oriented. We needed to become a little more balanced."
At 40.3 percent, Mariners pitchers recorded the majors' second-lowest grounder rate in 2017. Although, recently signed reliever Wade LeBlanc may not help them improve in that aspect, as he registered a meager 36.7 grounder percentage prior to this season. Nevertheless, the Mariners brought in the lefty-throwing LeBlanc in the wake of the right-handed Phelps' injury, though it's unrealistic to expect the former's production to approach the latter's. LeBlanc, 33, has been a mediocre option throughout his career, including during a 2017 campaign in which he compiled a 4.50 ERA/4.28 FIP with 7.15 K/9, 2.25 BB/9, and an uncharacteristically solid GB percentage (45.9) in 68 innings with the Pirates. The former starter did collect more than three outs in 19 of 50 appearances, so he could help make up for the losses of Pagan and Phelps in that regard.
The Nicasio and LeBlanc signings didn't exactly make for enticing headlines, but the Mariners' reunion in free agency with outfielder Ichiro Suzuki certainly did. Ichiro is one of the greatest Mariners of all-time, of course, as he previously thrived with the franchise from 2001-12 after emigrating from Japan. Now the game's oldest position player at 44, Ichiro is no longer the all-world performer he was for most of his initial Seattle stint. Ichiro generated below-replacement level numbers twice during his tenure with the Marlins from 2015-17, though he wedged a valuable 2016 between those years (.291/.356/.376, 1.4 fWAR in 365 PAs). It would make for a great story to see Ichiro return to that form now that he's back with the club whose hat he'll wear into Cooperstown. And hey, he's off to a pretty nice start so far.
from MLB Trade Rumors https://ift.tt/2EauOq3